**This post is spoiler free!!**
So after watching the tv show Legion and the movie Beauty and the Beast, I became obsessed with Dan Stevens. When I discovered that he was also in the very-popular television series Downton Abbey along with THE Dame Maggie Smith, I decided that I absolutely MUST watch it. That's basically what I've been up to this summer… binge watching six seasons of this show. I'm currently on the last season, but I'm too scared to finish it (lol).  But so far, I absolutely love it. Here's why:
The Characters.

 

This show has TONS of characters, which means that the show doesn't revolve around one character or couple. Along with the Crawley family, who owns Downton Abbey, the series also follows the staff members. From cooks, to maids, to butlers, to car mechanics, everyone contributes an important factor to the story. Each of the characters are very well written, each with their own backstory and development throughout the series. There's also a family dog, if you love doggies 🙂 My favorite character is either Matthew Crawley or Lady Mary. I adore Lady Mary because she's so feisty and kind of mean and blunt, but I absolutely love her character development and how much she's changed from season one to season six. And I love Matthew, because c'mon… it's Dan's character and he is so FINE. Matthew is just so sweet and such a good person and ugh. You can't NOT love Matthew!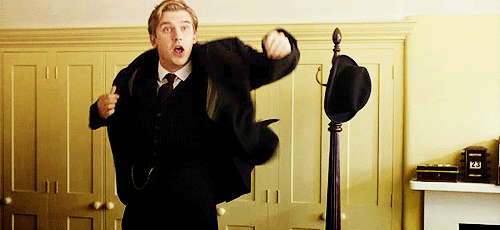 The Plot. 

For those of you who are unfamiliar with this show, Downton Abbey is basically about the lives of the Crawley family and its staff members from about 1912 to 1926 in England. There's actually a lot of historic events that take place during these years, and the show depicts how these events affected the rich and the poor (the Crawleys and the staff). 

Since there are a lot of characters in this show, there isn't just one solid plot that happens throughout the series. There's one situation happening to the cook downstairs, while there's a wedding that's being planned upstairs by Crawley family, while there's another character who's still mourning over someone's death (yes, a couple of characters do die in this show!) There is always an interesting story that's going on with one of the characters, which kept me on the edge of my seat. Not to mention the fact that there are a lot of ships in this show. So if you don't like one couple, there's always another couple I guarantee you'll love (which is what happened to me).
The Set/Scenery. 

As mentioned above, the show takes place in England. There's a lot of places that the Crawley family goes to, but my favorite set is actually their home at Downtown. Filmed at the Highclere Castle, the estate is about 5,000 acres and it's HUGE. I personally love old timey antique things, so I actually really loved the rooms and the objects and the details that were put into the set of this show. 
I realize that the stuff I listed above would be considered typical, but honestly, these things really do make this show special. In conclusion, I want to say that I think Downton Abbey is one of the best shows I have ever watched! All six seasons are available on Amazon Prime. If you love drama, romance, or history, then I highly highly highly recommend this series!
What shows have you been binge watching this summer?
~Sofia